Information
Contacting Us
If you have any questions please ring Dave on 07941 062083 or e-mail us at this address:

What to Expect
The Kenpo system is a practical system, and contains self defence techniques which are designed to demonstrate principles which can be used or adapted to work in self defence situations on the street. The techniques are fast and powerful, and are designed to overwhelm an opponent quickly and effectively.
These self defence techniques are at the core of the Kenpo curriculum, but as well as these we have many other aspects of training such as pad work, sparring, improvisation, weapons and discussion as well as flexibility and cardio-vascular fitness training.
New members find that they warm to the style very quickly, and this is helped by a friendly and relaxed training atmosphere at the club. Do not worry if you have never tried Martial Arts before, there will be instructors and fellow students on hand to guide you through your first steps. Nobody is going to shout at you if you do something wrong!
Garforth Kenpo Karate welcomes people of any skill level, from absolute beginners to people coming from other arts who wish to try Kenpo. Our system is also suitable for both men and women and we cater to every student's needs individually.
Training Times and Locations
Students are requested to arrive at least ten minutes before the class is due to start in order that the class can start on time. If everyone arrives at half past then by the time all the money has been taken and the kids have been organised ten minutes of the lesson will have been wasted, it's as simple as that!
Junior classes are for ages 6–13 and senior classes are for ages 14+. Please note that whilst we take children from 6 years of age, maturity in children at this age varies greatly from child to child and if we do not feel that a child is mature enough to begin training when they come to the club we reserve the right to defer their entry for a year.
Mondays
St. Benedict's Centre
Aberford Road
Garforth
Wednesdays
Firthfields Community Center
Firthfields
Garforth
On both nights the junior class is 6.30pm–7.30pm and the senior class is 7.30pm–9.00pm.
Seniors are welcome to come from 6.30 onwards to either help with the junior class or train amongst themselves.
Parents may sit and watch junior classes or you may leave your child in our care. However if you do wish to sit and watch we ask that you are quiet and also control any younger children that you might have with you please!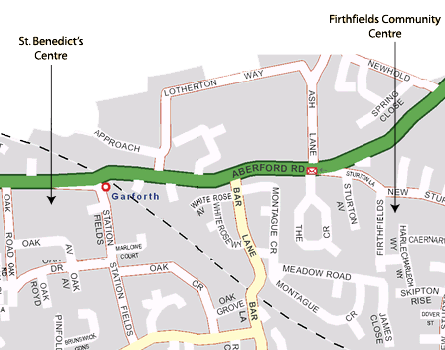 Click the above map to move to the MultiMap website. This will allow you to zoom in or out on the area as you require or to plot driving directions.
Prices
The first lesson that students attend is free! This gives students an opportunity to see if you like the club without it costing them a penny. Thereafter, students may attend up to three further lessons before having to pay an annual subscription to the club.
Training Fees
£3.00
Annual Subscription Fees

new members … £10
renewals … £5

(New members receive club patches and a hard backed license as part of their initial membership fee. Replacement licenses cost £5 each.)

Grading Fees

yellow tip to brown tip … £5
kyu gradings … £10
dan gradings … £25


(Gradings are held every three months and students will only be allowed to grade if instructors feel they are ready. Apt students may be allowed to double grade as far as blue belt at the instructors' discretion.)